Imagine a solid stone shower floor that requires less attention than a plastic shower pan or tiled shower floor.

Canadian Soapstone's patented shower floor makes this possible.

Canadian Soapstone within a shower floor means little upkeep and a host of other benefits. Density of our Soapstone in combination high saturation of talc make for a non porous floor. Soap scum and other residues sit on the surface, requiring a light scrub every 2 weeks.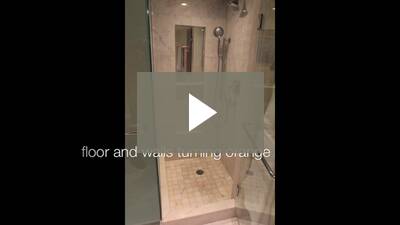 It is the only non-porous stone on earth. Pores cannot be completely sealed, no matter the sealer, thus exposing other non-solid surfaces to bacteria and potential stains caused by everyday use.

Secondly, due to its neutral-mineral content, soapstone is impervious to chemicals and therefore can be cleaned using even the strongest of household cleaning products; applying chemicals to other natural stone surfaces will typically damage them.

Thirdly, soapstone will not burn, as it is completely heat proof (the best fireplaces are made of soapstone). Lastly, seams on countertops are very inconspicuous, a benefit matched only by synthetic surfaces.
All shower floors are a custom fabrication, each shower floor is sloped from a large 1 1/4" inch slab to a customers required drain location.

Don't know where to locate your drain?

We can help you determine a drain location easily and create a stone arrangement that best suits your needs.
Canadian Soapstone has the best traction of any shower floor when wet.

Compare to any other type of shower base and Canadian Soapstone has better traction….unless the shower base is made of sandpaper.

Talc naturally repels water, improving traction and as a result drastically reduces slip.

Canadian Soapstone shower bases are the ideal choice for bathroom remodels for seniors or a barrier free shower.